Welcome Parents
Starfall.com is a program service of Starfall Education Foundation, a 501(c)(3) public charity. The website has been a free online resource since 2002, teaching millions of children to read and inspiring a love of learning through exploration. The website is kid-safe. There is no advertising and we do not collect any personal information from children— in fact, we're one of the safest children's websites on the internet! Members enjoy mathematics, additional reading activities, and songs. Learn more about Starfall Education Foundation.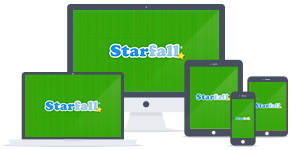 Join Today $35/year
Download App Free!
Starfall Home Membership
Educational Play Pre-K to 2nd Grade
Our low-cost home membership expands the free content you already enjoy to include delightfully animated songs, mathematics, and reading activities spanning pre-k to 2nd grade. Your child will have fun learning essential reading and math skills through exploration! Your $35 tax-deductible membership fee ensures that we can continue to provide a large portion of our interactive content free of charge and offer low-cost, high-quality, educational resources to classrooms.
The Starfall home membership is a single account for use by your immediate family (including grandparents) for one year. One email and password is all your family will need to authorize all your devices. Membership is mobile ready: simply download the Starfall FREE App for Android, Kindle, or iOS, then enter your membership email and password. Learn More
No, we will not automatically renew your membership. Starfall does not retain credit card information. You will receive an email reminder within 30 days of your expiration date.
Learning to Read with Mom, Dad, and Starfall
Millions of children have learned to read at Starfall.com, and your child can too!
Starfall is so easy to use, there are no complicated instructions. The website supports your child's exploration. Every word when tapped or clicked will read aloud enabling your child's speaking, reading, and writing vocabulary to grow alongside his or her curiosity. On occasion, sit down with your child and use the website together and encourage your child to share what he or she has learned. Although the website is organized sequentially, please allow your child to play freely and create a unique path.
Remember to turn off the computer or mobile device and read to your child. Have conversations about what you read. Ask your child questions about the stories and encourage him or her to ask questions in return. Invite your child to read to you. When he or she reads even just a few words, be very proud! Celebrate these small successes. It will motivate your child and open a world of knowledge.
Starfall Curriculum Products
High-quality, low-cost educational products
Are you interested in teaching your young children at home? Starfall offers a complete Pre-K Curriculum, Kindergarten English Language Arts (ELA), and Kindergarten Mathematics curriculum that works in tandem with our membership website.
Visit The Starfall Store for other high-quality, low-priced educational materials.