Starfall for your Homeschool
Starfall.com is a program service of Starfall Education Foundation, a 501(c)(3) public charity. Savvy homeschool parents have been using the website since we began in 2002. Our free website and downloadables provide a phonics-based foundation that will support any reading curriculum. The website is kid-safe. There is no advertising, and we do not collect any personal information from children—in fact we're one of the safest children's websites on the internet! Learn more about Starfall Education Foundation.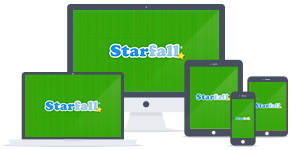 Join Today $35/year
Download App Free!
Starfall Home Membership
Reasonably Priced Educational Play Pre-K to 2nd Grade
Our subscription service expands the free content you already enjoy to include delightful animated songs, mathematics, and reading activities spanning pre-k to 2nd grade. Your $35 tax-deductible membership fee ensures that we can continue to provide a large portion of our interactive content free of charge and offer low-cost, high-quality, educational resources to homeschools like yours.
The Starfall home membership is a single account for use by your immediate family for one year. Membership entitles you to use the Teachers' Lounge for customizable worksheets, downloadable PDFs of our curriculum lesson plans and much, much more. Membership is mobile ready, simply download the Starfall FREE App for Android, Kindle, or iOS. Learn More
No, we will not automatically renew your membership. Starfall does not retain credit card information. You will receive an email reminder within 30 days of your expiration date.
Homeschooling Made Easy, Starfall Curriculum Products
Research-based. Proven effective. Totally fun!
In 2010 we released our Kindergarten English Language Arts Curriculum, followed by a complete Pre-K Curriculum in 2013. Our curriculum products work in tandem with our website and ensure your child will gain the skills to make him or her a life-long learner. Save time and energy with our quality materials, pre-planned lessons, crafts, recipes, activities, songs and more!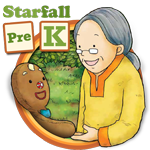 Starfall Pre-K
Homeschool Kit
An Integrated Curriculum
Our program integrates math, science, health, creative arts, social studies, physical movement, early literacy, and social-emotional development, all under a framework of guided instruction and imaginative play. Learn More
Buy Now
$185 - includes home membership

+ 10% shipping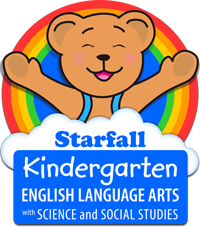 Starfall Kindergarten
Homeschool Kit
English Language Arts
Draw on more than 70 years of combined classroom experience to inspire and motivate your students. Developed by master teachers, Starfall Kindergarten provides all the tools, resources, and confidence you need. Learn More
Buy Now
$346 - includes home membership

+ 10% shipping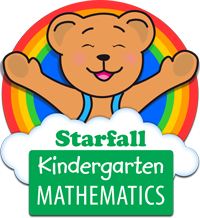 Starfall Kindergarten
Mathematics Curriculum
Explore early algebraic concepts using numbers, shapes, and measurement tools while connecting mathematics to everyday scenarios and practical problem solving; research-based and standards-aligned. Learn More
Buy Now
Under $160 + home membership

+ 10% shipping
How to teach reading with Starfall
Get the most out of our free resources!
Homeschool parents across the US and around the world have used Starfall as a foundation for their early reading curriculum. We recommend your child progress sequentially through the site, but there is no harm in allowing him or her to play freely, follow an interest, and create a unique path. Starfall supports your child's exploration. Every word on the site will read aloud enabling your child's speaking, reading, and writing vocabulary to grow alongside his or her curiosity. Free downloadable printouts accompany each section of the site. You will find companion high-quality, low-cost educational products listed alongside each relevant section for your convenience.