Dear Educators
Starfall.com is a program service of Starfall Education Foundation, a 501(c)(3) public charity. The website opened as a free public service in 2002 to inspire a love of learning through exploration in a safe, playful environment. We offer free online reading resources and low-cost, high-quality curriculum products. Members enjoy additional mathematics, song, and reading activities. Learn more about Starfall Education Foundation.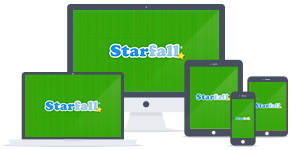 Download App
Free!
Starfall Membership
Mathematics & Reading, Pre-K to
2nd Grade
Membership unlocks hundreds of activities on your computer or mobile device. The mathematics, phonics and reading, sing-along songs, and nursery rhymes parallel and enhance our curriculum products. Enjoy lesson plans, customizable worksheets and other resources. Learn More
No, we will not automatically renew your membership. Starfall does not retain credit card information. You will receive an email reminder within 30 days of your expiration date.
Teacher's Membership
An annual Teacher Membership serves a single teacher and up to 6 students in a classroom. It is ideal for small groups or special populations. Use in the media lab is not permitted. This membership is tax-deductible.
Join Today
$70 year
Classroom Membership
An annual Classroom Membership serves a single classroom or a small school where there is only one classroom per grade level. Use in the media lab is permitted for small schools.
Join Today
$150 year
School Membership
A School Membership is perfect for a typical school campus and may be used on all classroom computers and in the media lab.
Join Today
$270 year
Starfall Curriculum Products
Motivational and engaging for children and teachers!
Written by master teachers and field-tested in classrooms nationwide, Starfall curriculum products guide new and veteran teachers to capitalize on the enthusiasm created by the online activities. Starfall's standards meet and exceed all state and Common Core standards, ensuring your students are prepared for 1st grade and beyond. Download our Research Bibliography and Kindergarten Common Core Alignment.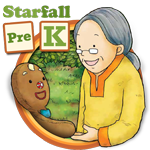 Starfall Pre-K
An Integrated Curriculum
Integrates math, science, health, creative arts, social studies, physical movement, early literacy, and social-emotional development through guided instruction and imaginative play. Learn More
Buy Now
$400 + membership

+ 10% shipping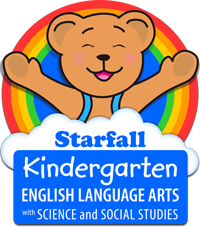 Starfall Kindergarten
English Language Arts
Research-based, effective, and Common Core aligned, Starfall Kindergarten instills confidence and inspiration in teachers and children. Integrates science and social studies. Learn More
Buy Now
For a class of 20: under $900 - includes membership

+ 10% shipping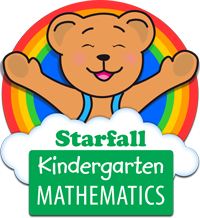 Starfall Kindergarten
Mathematics Curriculum
Explore early algebraic concepts using numbers, shapes, and measurement tools while connecting mathematics to everyday scenarios and practical problem solving; research-based and standards-aligned. Learn More
Buy Now
For a class of 20: $407 + membership

+ 10% shipping
Supplement any reading curriculum with Starfall
Get the most out of our free resources!
Add a spark to your English and Language Arts program by supplementing with free content from Starfall.com. Every word within the delightfully animated stories will read aloud when clicked, enabling your students' speaking, reading, and writing vocabulary to grow alongside their curiosity. Free downloadable printouts accompany each section of the site. You will find companion high-quality, low-cost educational products listed alongside each relevant section for your convenience.