Applause
I love your web site. I try to play with my granddaughter daily. She is really enjoying our time together and she does not even know she is learning. Thank you so much!
Grandparent
California
Starfall.com and More.Starfall are amazing. I have been telling all my friends with young children about the site. Thank you for giving us a head start.
Parent
Texas
The most complete program I have ever taught...beautifully encompasses more than one subject area at a time. My children have never made such huge growth in a year. I am totally satisfied and can't wait for next year.
Kindergarten Teacher
California
The variety of subjects on your website is amazing! There are few moments in my life that have made me smile more than hearing my daughter say she's just finished Offenbach, but would also like to listen to Tchaikovsky before bed! Thank you from the bottom of my heart for your wonderful, wonderful website!
Homeschooling Parent
Texas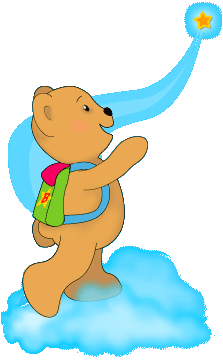 About Starfall Education
A Brief History
Starfall.com, a free public service, opened September 2002. Our mission now is the same as it was then: to ensure children learn to read in an atmosphere of fun and enthusiasm. Our sister website, More.Starfall.com opened June 2009. It is supported by memberships and school licenses available at low cost.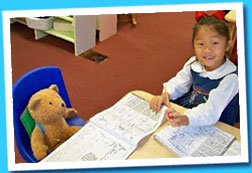 Children love to help
Backpack Bear learn his letters!
Teachers worldwide wrote to tell us about their success using Starfall. That's why in May 2004 we developed a partnership with schools nationwide to help us create a complete Kindergarten Reading and Language Arts curriculum. By 2008 the task force had expanded to over 150 teachers and 5000 students. May 2009 saw the release of the curriculum. Starfall Kindergarten incorporates the skills recommended by the National Reading Panel and meets and often exceeds state standards. At the same time, the curriculum creates an environment of wonderment and play, not rote learning. Struggling Readers and English Language Learners grow alongside their peers.
Visit Starfall.com to learn more about Our Method and get great Advice for Parents.
Accolades
Children's Software & New Media Review chose Starfall as the highest rated product in their Early Elementary category, the first website to receive this honor (spring 2004). The Reading Teacher named Starfall one of "Five Internet sites too good to miss" (May 2006). Homeschool.com has repeatedly recognized Starfall as one of their top five educational websites. Disney's Family Fun lists Starfall in its "Top Ten Fun Websites" (September 2010).
The Starfall Team
Starfall is supported by the Polis-Schutz family. Stephen Schutz and poet Susan Polis Schutz founded Blue Mountain Arts publishing company in 1970 and together with their son Jared Polis, created the popular e-greeting card company, bluemountain.com. The Polis-Schutz family shares a passion for education. Susan Polis Schutz was a teacher in New Jersey and New York City in the 1960s. Jared Polis served on the Colorado State Board of Education (2000-2006). Although Stephen Schutz had difficulty learning to read, he went on to graduate from MIT and earn a physics PhD from Princeton University.
Starfall is produced by a dedicated and talented international team of educators, writers, artists, designers, animators, and musicians led by Brandi Chase. Roger Wilson leads our computer engineering team.
educators: Dr. Karen Cole, Joan Elliott, Myrna Estes, Pam Ferguson, Judy Goetze, Darla Marquez, Stephanie Riess, and Heidi Suburu
artists + designers: Matthew Baca, Ric Beemer, Dale Beisel, Marc Buchanan, Kimberly Cooper, Craig Deeley, Faith Gowan, Stefan Gruber, Heather Hogan, Terrence Keller, David Lebow, Debby Lee, Frank Lee, Claire Lenth, Gina and Art Morgan of AMGG, Julie Ann Quinsay, Michael Ramirez, Jared Ramos, Scott Stebbins, and Triska Wasser
composers: Randy Graves, Keith Heldman and Richard James
engineers: Kerry DeZell, Tom Meyer, Steve Patschke, and Troy Tazbaz
quality assurance: Jon Leyba, Larry Moiola
customer service: Kira Gowan, Jill Guzman and the entire Boulder Office
Starfall would not be possible without the support of Karen Bidgood, and the purchasing, customer service and warehouse teams at Blue Mountain Arts.